since jim hit the ground running on june 1st with summer camp training, we haven't exactly enjoyed much family time. he leaves before the kids wake and comes home long after they're asleep. we try to make it up to camp for meals, but we don't exactly get his undivided attention up there. it won't always be this intense, but orientation is truly mad.
so when we were able to steal jim away to
carol and dave's roadhouse
for a dinner out on sunday night, it was a definite treat. we ate on their deck, no fits were thrown, and jim and i enjoyed burgers from the grass-fed-and-finished beef from the
kananga farm
, which is adjacent to camp.
after i ordered (in a blur of juggling bibs, high chair straps, and sippy cups), i realized that if i'd given more than a cursory look a the menu, i could have had a dinner with the kind of vegetables not served in the dining hall, but camp is definitely not serving up grass-fed beef, and these burgers were tasty.
more and more restaurants in our area are sourcing meat, eggs, and produce from local farms, and i love it. i love knowing that my dollar is supporting not only a local business but a local farm. i love knowing that the animals were pastured or the produce was not treated with pesticides. i love that my burger journeyed to my plate from the farm in my backyard instead of being shipped who knows how far from a seedy
factory farm
.
if restaurants know that customers care about where their meals come from, they will source more local and organic ingredients. the local food movement is definitely growing in my small town because of consumer interest. i got an email this week from
the ivy cafe
saying they had veal on their new summer menu from a local farm where the cows were all pastured and not confined. i have never ordered veal because of the awful conditions they are conventionally raised in, but i could definitely order veal from a local farm that i could trust and even visit.
when restaurants source ingredients locally and craft menus from what is in season, it's good for local economies and so much better for our health. businesses will listen if they know that's what consumers want. money talks, and we truly can cast votes with our dollars for better, locally-sourced food.
how important is buying local food to you? do you have a favorite source for local food?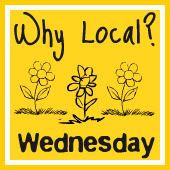 quest for real food
is hosting a conversation on local eating, and
the local cook
has an interesting series on the intersection of faith and eating with a challenge about
supporting local farmers
. check them out:) this post is also linked to
works for me wednesday
.